Discussion Starter
•
#1
•
I've been fighting an issue for a while and feel like I'm close to the answer but need some help.
My Stock 07 YFZ 450 (stock exhaust, removed airbox lid) runs perfect in all throttle ranges, but I can not get the bike to stop fluttering when riding on rough terrain. I've also discovered that I can mimic the fluttering issue by taking hard Right hand circles at relatively low speeds. The bike will start to bog and lose all power until it's going slow enough that the roughness of the terrain (or these hard right hand turns) don't affect the fuel flow in the carb any more.
I have found that decreasing the float level in the carb helps the issue a lot, but it never goes away. My last change was setting the float level at the lowest level possible. The yfz acted fine on a short trail ride and the issue was almost completely gone except for one obvious issue- At WOT throttle for more than 5 seconds the bowl would drain and the bike would die until it sat for a few seconds and the bowl had time to fill up again. So this can't be my permanent solution.
In searching the forum I found this in the Mother FCR Tuning Thread: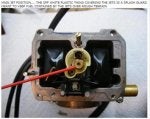 Is there more to this plastic guard inside the bowl? Is there something else I can adjust in the Carb to help this issue? I plan on buying an new OEM plastic guard to see if it helps unless there are some other suggestions.
Here is what the inside of my bowl looks like: