Discussion Starter
·
#1
·
To start off I have a 06 Carb with a Miller ATV Ported head, 96mm 12.4:1 Wiesco Piston, barker exh, FCI and cam mod. My last dyno I had was with that new setup at it dyno at 47hp. Which I remember others saying this dyno runs about 3hp low but I feel thats not that true as I run the same as a newer efi yfz only with the big 3.
Here's my dyno chart on Previous Setup: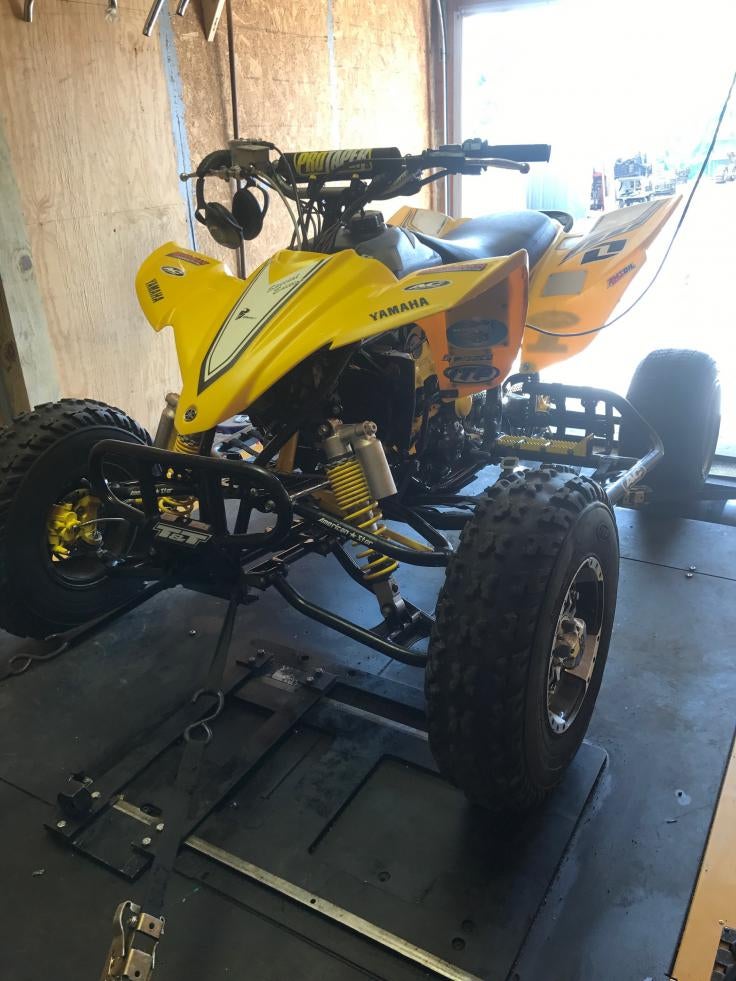 Finally I got something done that I've need for over a year now! Finally put my complete rebuilt yfz on the dyno to see what kind of power could be pulled out with a mild/moderate motor build. It has a 12.4:1 comp +1 piston, Miller Racing Porting, FCI intake, Barker Exhaust, Cam Mod running on...
www.yfzcentral.com
Now what I need help with is my piston and rings are worn and the cylinder has no cross hatching left. So I plan on buying a new cylinder, piston and new valves. Now this is the area of what direction to go with power but would like to still run on 93 octane pump gas.
Option 1 to go back to a new OEM factory jug with a 95mm 12.75:1 CP Piston and oem cams and valves.
Option 2 is to go for a big bore like a 470-480cc kit with a 12.75:1 CP piston.
Not sure how much I would gain from the big bore and if its better to make reliable power with a factory setup at close to what I had.
I also have done some reading in the threads where the 06 has the shorter connecting rod but has 10cc more because of the head volume. So from my understanding my current 12.4:1 piston is lower on compression that I originally thought.
I'm just at a loss for what to do because I have never ran big bore and don't know any one personally who had a "built" motor other than me. And my friend just got a '86 TRX 250r so kinda feel I need to up my horsepower so I don't get murdered with what I know he is building his motor too.