Discussion Starter
·
#1
·
Just finished up the weekend with two solid days of nothing but MX riding (my first two times at a MX track) and had a BLAST! Got to meet up with some cool peeps (Husker525, Terse, LittleMissE, RockiesYFZ, and others). Unfortunately the two days weren't without incident.. I cased pretty hard on 2-3 occasions throughout the two days of riding, and while the I didn't hurt much from the incident I just assumed the impact was pretty minor in comparison to what some of you guys might experience since I'm still a little timid (not afraid! :bawling: ) of railing the big stuff. Anyways..
I was doing some maint. work and cleaning the quad up from this weekends activities and had to remove the rear plastics to top off the rear coolant resivor. Upon reinstalling the rear plastics I noticed the left side rear fender was sitting up about 3/4" to an inch higher than the right.. Noticed the grab bar was crooked too. You can pretty much look down the subframe rails with the seat off and see the that somethings just not quite right.. And when looking at the bottom of the battery box you can see it's slightly overhanging over the chain.. That's not normal is it??
I did some poking around and found a picture that looks somewhat like my case. I didn't have my camera handy to snap a pic of mine, but this'll give you a good idea. Keep in mind the orignal thread that this pic was pulled from, it was determined that swingarm was the fault, not the subframe. If you noticed in the pic he's got a aftermarket tubular swingarm which was said to be "weaker" than the stock cast Al swingarm.. Anyhow, my swingarm is still stock (2008 model with LOW hours).
So here's kinda how mine sits: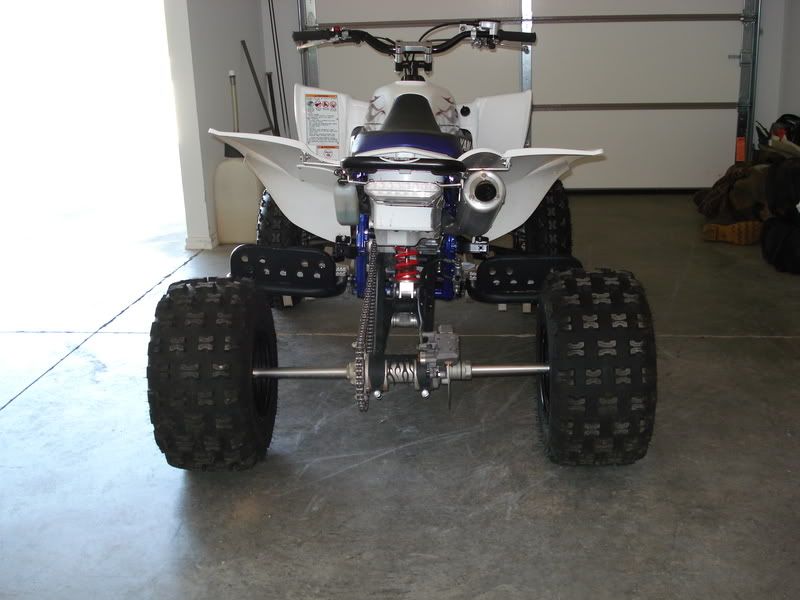 I noticed there's a fair ammount of flex in the subframe if I pull up on the grab bar in attempt to "tweak" it back into shape. Not so much that it would suggest it was broken, but perhaps fatigued?
If it's bent, it's bent.. Nothing I can do about it now! :strokin: But really, how easily are these things bent? After looking at how much a stock one is, and aftermarket ones I'm a little trigger shy about purchasing a new OEM one with all the talk I've seen of how weak these things are. Especially if I bent the thing and I'm just getting started.
Granted these things were designed to tweak well before the frame.. But really..
Thoughts/Suggestions/Comments welcome...