I have finally finished my full rebuild from from up so I have decided to clean out the garage and get rid of the extra parts. All prices are negotable so please dont hesitate to shoot me an offer. I will do package deals and combine shipping. Please text me for pics as there are to many parts to post all the pics on here. You can reach me at (203)-948-9eight4six please also keep in mind none of these prices include shipping.
All these parts are for 06+ YFZ450
Stock gas tank $20
over sized IMS tank clear one of the screw holes for the cap would need to be drilled and tapped there is a screw broke in it. $75
Full set of blue plastics they have some wear and stess marks from riding $200
Lonestar axle nut new never used came with my axle and I went the stock route $75
Stock throttle cable top boot is a little beat up but seems to be in good shape other wise $10
4 - 9" blue rear hiper rings pretty beat up but still functionable $10ea or $30 for all
2 front 10" blue beat up hiper rings $10ea or $15 for both
2 front good shape blue front hiper 10" rings $20ea or $35 both
stock radiator $40
2 stock airboxes that could make one good one one is cut for a aftgermarket filter ring and has one broken mounting tab and the other has the aftermarket ring and is melted from the pipe $30 both or I can take the rin out of the melted one and ship just the ring and better box. neither have a lid.
stock black bar pad/dash $10
front brake lever no master $5
rear brake lever $15
stock bars $15
stock swinger has a crack in it still functional but not sure for how long ??make offer
stock swinger custom powdercoated white $50
stock rear brake line $10
aluminum swinger skid not sure on the brand but in great shape $50
stock front bumper $20
Stock oil breather that mounts near the airbox on the frame $10
2 sets of front spindles no hubs $50/set
2 sets of front hubs with rotors $50/set
stock wish bone and knuckle ??make offer
rear rotor hub stock $20
8- tire balls from 20-11-9 tires $50 for all
honda front calipers but bolt to the yamaha hub $40/set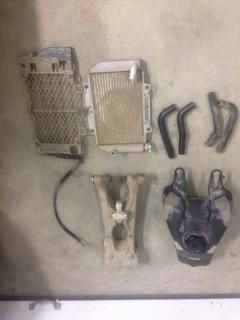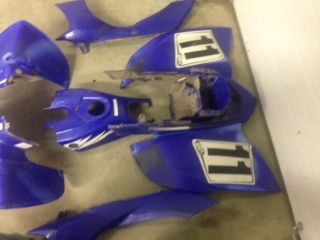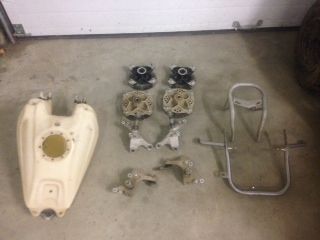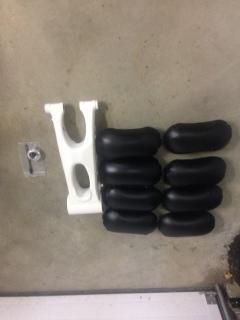 05 and older parts
Stock rear shock $40
wishbone ?? make offer
Raptor 700 parts
Stock tank and fuel pump $125
rear galfer brake line $25
07 SEII front fenders in good condtion $100
stock seat pan with quadtech duplicate foam and cover. Cover is torn in one spot but still functional $75
stock airbox/tube/lid $35
stock rear brake line $10
stock wishbone and knuckle $20
stock front bumper $20
stock heel guards no foot pegs $30
Stock gas tank heat shield $10
stock battery heat shield $10
Stock bar pad/key switch plastic $15
stock side motor mounts- $10
stock reverse switch and cable $25
dash neutral light/oil display warning light $25
rear fender mounts $10
stock rear brake lever $15
GYTR Belly skid pretty beat up but still functional $25
Stock cam in good shape make offer
brake stay- $15
stock throttle and cable $40