I have a 2006 yfz. hmf ballance full system, jet kit, pro design kit. Motor is stock.


I know a lot of you guys have sent your oil pumps off and had them upgraded to the 2007 nozzles to keep from damaging your wrist pin, crank, etc. I also heard that the late model 2006's had the newer design and dont need the upgrade.

1. How do I know if my 06 has the newer style pump? Can I see it from the outside or do I have to open it up? Or is there a cut-off date that you guys know of that I can search to see if my bike is after or before that date?

2. Is the pump worth the money or should I just take my chances? I maintain my bike very meticulously, borderline OCD actually. I mean, the upgrade is going to cost me just under $250 after shipping costs. If the motor seizes its gonna cost me around 500 for a good rebuild and then i guess ill have to throw the new pump kit on there anyways.

3. How common is it that this will blow my motor being an average rider? I ride very hard for long periods of time on trails, tracks, and dunes. I service my bike after every ride and change the oil and filter every two or three rides.

4. If this is something that i should do, where do I get it done? Should I order the upgrade and do it myself or does it need to be sent off? Im no pit cheif but i am an average mechanic with friends that are very capable of doing most work. Can I order the kit myself? What do I need to order? I was on the J&T website and considering this website promotes them, I would go with them if i did choose to go ahead and do the upgrade.

I tried to search this site, but i couldnt really get all of my answers. I will greatly appreciate any help. ty


---
To view links or images in signatures your post count must be 0 or greater. You currently have 0 posts.
Yamaha didn't come out with the oil upgrade on the YFZ until the '07. As far as I know , no '06 came with the upgrade out of the factory. The upgrade consisted of a oil squirter and a 12 tooth oil pump for high volume. It's not the oil pump that is modded it's the side case that is, to accept the oil squirter. Here's your answers.
1)You'll have to pull the side case cover off to check the oil pump. If it's got a 13 tooth gear you don't have it, the upgrade oil pump has 12 teeth for higher volume.
2)I think some type of upgrade would be worth the money. PDR has the complete bolt on kit for around $300 with almost no down time because it comes with the '07 side case. I think J&T has the kit for around $200 but you'll have to send them your side case to have it machined to accept the squirter. Finally you could always do the "oil mod" and save even more money and time and the methed is still proven and being done to this day
!
You can speculate what the costs are gonna be to repair your quad all you want if it went apesh!t on you if it was caused by heat and friction at the wrist pin. Bottom line is once that wrist pin seizes your crank will say fu(k you, I'm still going and then, BOOM! New cases, new cylinder, new crank, Head damage, who knows it could cost up to$1500.
3)I have an '04 that was running very strong and I rode it pretty hard, WOT every now and then, hill shooting at the dunes stuff like that. I change the oil about every 5-6 hours as well as clean the filter. I just tore it down to do some motor work, the oil mod being one of them and the wrist pin looked like this: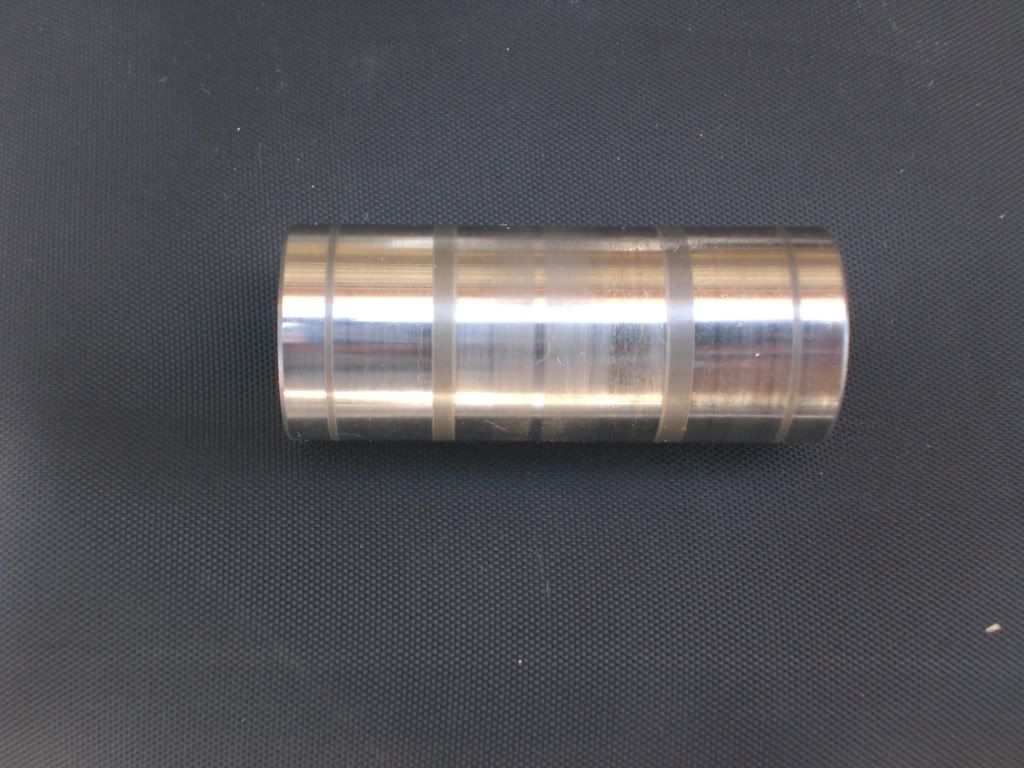 4) I did the oil mod my self while I had the motor apart. I'd say if you have good wrenching skills you should be ok with the right tools. PDR has a sticky on installing the oul upgrade kit. Ultimately it depends on how much money you want to invest that will determine how long it will take.
---
Quote:
450's all can be very tempermental once they are hot, and trying to start them. They are like women, each was is unique in the way they like to be fired up when hot. Some take finesse, some take a rough approach-husker525
I wanna thank my 2010 sponsors..
Dirt Fiend Racing
RATH Racing
To view links or images in signatures your post count must be 0 or greater. You currently have 0 posts.